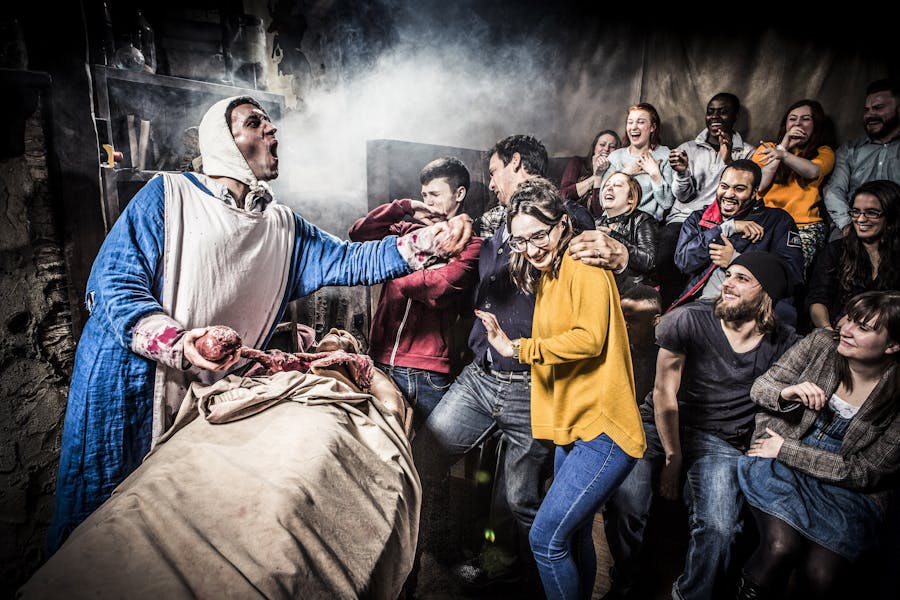 Amsterdam Dungeon entrance tickets
Om denne aktiviteten
Amsterdam Dungeon is a walkthrough experience that takes you through 12 interactive shows with an amazing cast of actors, special effects and unique scenes and stages. You will join a small group and descend into the vaults of Amsterdam Dungeon for a tour that will make you laugh and scream. Learn about the Dutch history through an experience that you can see, hear, touch, smell and feel.
History is not made up only of achievements and progress, sometimes it can be terrible. If you want to personally suffer the horrors of Dutch history, the Amsterdam Dungeon is the place for you!
Here forms of violence become unexpectedly funny. Born on the model of the successful London attraction of the same name, the Amsterdam Dungeon is not a typical museum, but a place to exorcise your greatest fears. Five hundred years of obscure historical events are remembered by 11 interactive shows, portrayed by nine actors in the flesh.
You can enter a torture room, climb aboard the ship of the seventeenth-century East India Company, discover the dark secret of the artist Rembrandt, enter the paranormal world of the witch Meynes Cornellis, dissect the human body, experience the terror caused by the plague or inquisition, and get lost in a maze of mirrors.
Les mer
Vis mindre
Kolleksjoner
Denne opplevelsen er en del av disse kolleksjonene
Du liker kanskje også
Klikk for å se andre opplevelser
Se alle
Van Gogh museum
39 Aktiviteter
Museums
65 Aktiviteter
Zaanse Schans Windmills
76 Aktiviteter
Rijksmuseum
43 Aktiviteter
Volendam, Marken & Edam
45 Aktiviteter
Gourmet cruise
43 Aktiviteter
Hop-on hop-off boat
27 Aktiviteter
Canal Cruise
145 Aktiviteter
Keukenhof Garden & flower fields
19 Aktiviteter
Gourmet
53 Aktiviteter
Se alle 50 Kolleksjoner