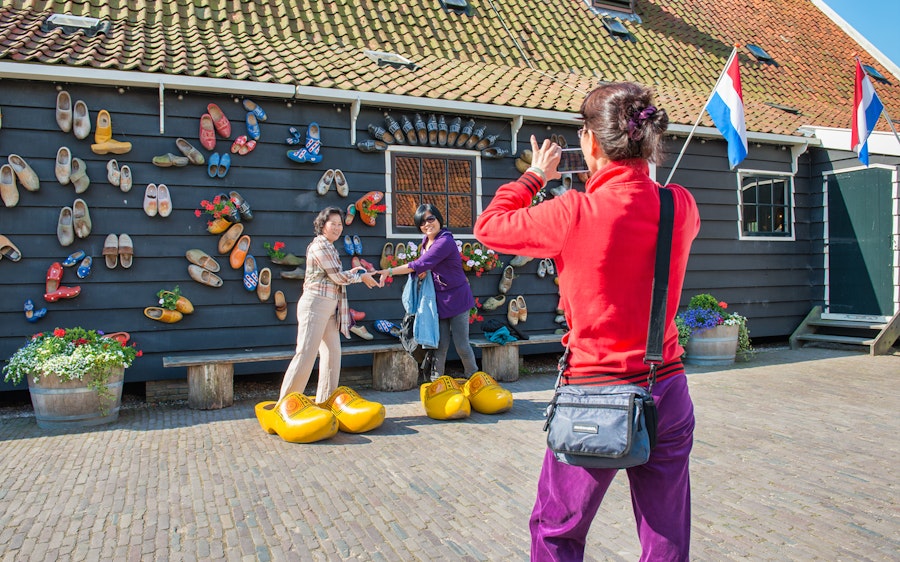 From Amsterdam: Windmills, Edam and Volendam Tour
Om denne aktiviteten
Your Experience Escape to the Windmill Haven of Zaanse Schans
Escape the mundane city routine with this half-day guided tour of the classic Dutch countryside. Upon pick-up from your designated meeting point, you will be driven in a luxury coach to windmill haven - Zaanse Schans. This village is home to windmills dating back to the 18th and 19th century. Here, you can watch live demonstrations of craftsmen at work, and then explore the village at your own pace.
Learn all About Dutch Cheesemaking in Edam
Next, you continue on to Edam, the pearl of the Zuiderzee. The town's ancient streets and canals are etched by beautiful 17th-century buildings. Some of these famous structures include the Carillon Tower, the Great Church, and town hall. You can also check out the public weighing house, where to date Edam cheese is sold every Wednesday.
Visit Major Tourist Attractions in Volendam
Finally, you make a stop at the picturesque seaside village of Volendam. A major tourist attraction since the late 1800's, this fishing village is thronged by thousands to see the small buildings and houses. A great place for a souvenir, and to get pictures clicked in traditional Dutch costume. Your guide will take you on a short walk through the oldest parts of the city, exploring a labyrinth of twists and turns to sites such as St. Vincent's Church, the wooden Stolphoevekerk and the Visafslag (Fish Auction).
Les mer
Vis mindre
Kolleksjoner
Denne opplevelsen er en del av disse kolleksjonene
Du liker kanskje også
Klikk for å se andre opplevelser
Se alle
Van Gogh museum
39 Aktiviteter
Museums
65 Aktiviteter
Rijksmuseum
43 Aktiviteter
Gourmet cruise
43 Aktiviteter
Hop-on hop-off boat
27 Aktiviteter
Canal Cruise
145 Aktiviteter
Keukenhof Garden & flower fields
19 Aktiviteter
Gourmet
53 Aktiviteter
Holland sightseeing
64 Aktiviteter
City tour
56 Aktiviteter
Se alle 50 Kolleksjoner