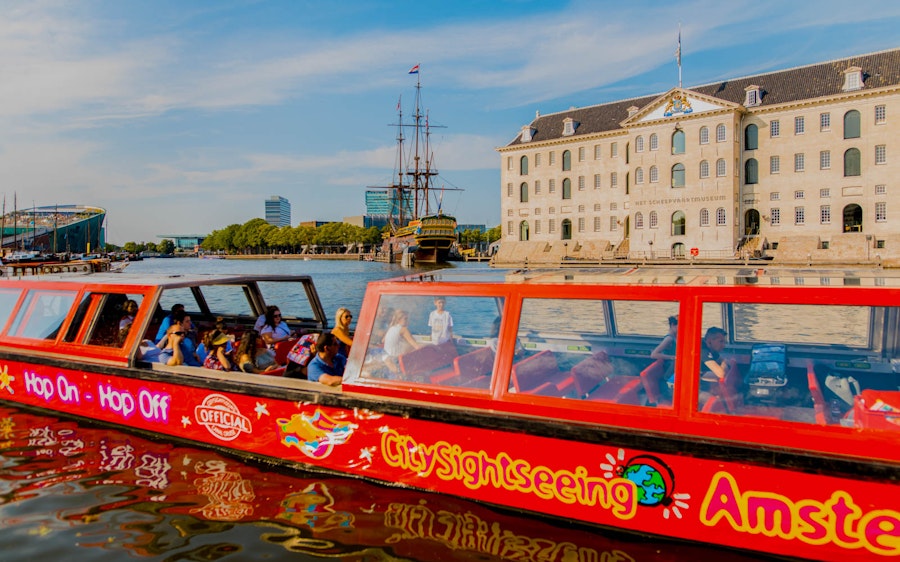 Amsterdam Hop On Hop Off Boat Tour
Om denne aktiviteten
What to Expect
The best way to get around Amsterdam is by boat. Explore the Amsterdam canals and get around the city with ease with your hop-on hop-off tickets. With unlimited access to the sightseeing boats, make the most of your ticket by traveling wherever you want to.
This hop on hop off boat service is an enjoyable and relaxed way of getting around the canals and takes you past most of Amsterdam's top sights and museums, such as the Amsterdam Hermitage Museum and the Anne Frank House. The service is frequent and regular and the several stops are located near the museums, shopping districts, and tourist attractions. The boats are equipped with panoramic windows which provide unparalleled views of the surroundings allowing you to take in the city in all its splendor. Sit back and take in the beautiful sights all around you as you travel from one stop to another. The boats are divided into two separate routes i.e the Blue line and the Green line.
Your 24-hour ticket is an excellent way to see the entire city if you're pressed for time. From the comfort of your seat, you'll get endless panoramic views and photo ops of Amsterdam's top attractions without having to worry too much.
Les mer
Vis mindre
Kolleksjoner
Denne opplevelsen er en del av disse kolleksjonene
Du liker kanskje også
Klikk for å se andre opplevelser
Se alle
Van Gogh museum
39 Aktiviteter
Museums
65 Aktiviteter
Zaanse Schans Windmills
76 Aktiviteter
Rijksmuseum
43 Aktiviteter
Volendam, Marken & Edam
45 Aktiviteter
Gourmet cruise
43 Aktiviteter
Canal Cruise
145 Aktiviteter
Keukenhof Garden & flower fields
19 Aktiviteter
Gourmet
53 Aktiviteter
Holland sightseeing
64 Aktiviteter
Se alle 50 Kolleksjoner