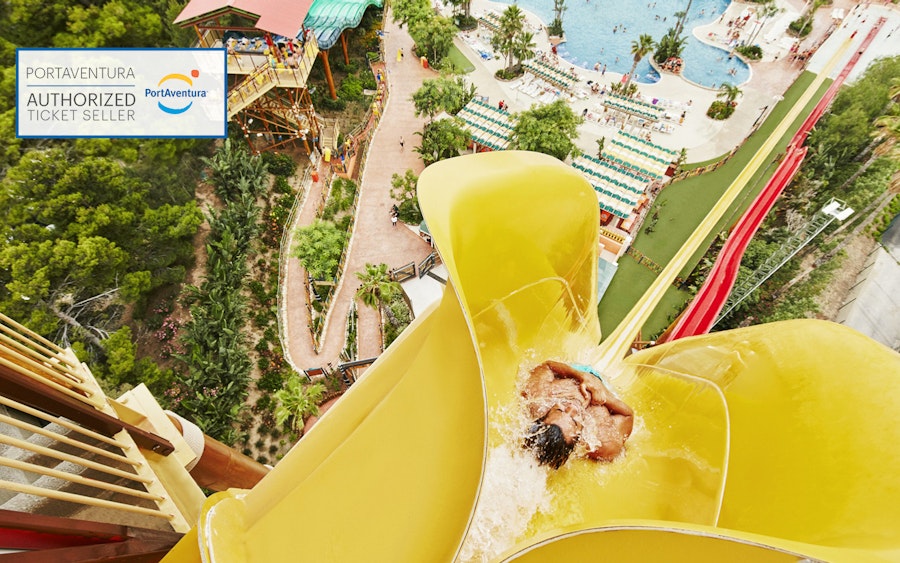 Caribe Aquatic Park 1 Day pass
Variable
Populær
Full dag
Om denne aktiviteten
Why You Shouldn't Miss This
Grab the chance to spend an unforgettable holiday at PortAventura Caribe Aquatic Park, the water park of PortAventura World. This water park is among the best in Spain and spans over a massive 50,000 square meters of amusements fit for people of all ages. You can choose to relax at their 'Bahama Beach' while you listen to the reggae music that floods the park's idyllic atmosphere.
For the more adrenaline seeking lot, the King Khajuna has a whooping free fall of 31 meters high and a dizzying vertiginous slope of 55 degrees. Be amazed and don't be surprised when you reach a speed of 6 meters per second as you board this amusement. The other fast paced amusements include the thrilling slides of the 'Mambo Limbo'. The Rapid Race is another intense amusement that allows you to sleigh down it's wavy slide that projects you towards the finish line at an unusual speed as you overcome its changes of elevation and its refreshing waterfalls.
There are several other amusements that are bound to prove to you that boredom has no place in this park. The Bermuda Triangle is quite the challenging wave pool, Do you dare to surf it? The Indoor Zone - The Greater Caribbean at the park is designed for the little ones, giving them a safe, happy and fun environment to play in. Other amusements for children include Junior Body Slides, The Woody Lagoon, Sésamo Beach and the Pirate Galleon. All of which are designed to give your children quite the memorable day out.
Your Experience
As you enter this park, you will spend the whole day soaking in the Spanish sun in 50,000 square meters of uninterrupted fun. Splash around in the Bermuda triangle, the challenging wave pool that pays tribute to dark legend that makes it one of the most feared areas for navigators and pirates. If you live for thrill, you must aboard the King Khajuna, it is the highest free fall slide in Europe and the star of the Caribe Aquatic Park. You will also get the chance to brave the rough waters of El Torrente and test your skills at rafting aboard an inflatable boat. The slides of El Tifón begin at about 15 meters high and finish with a truly dizzying descent. If you'd like to cool off and soak in the sun, there are several swimming pools and Caribbean themed beaches that are perfect to relax in.
This park also has several restaurants you can dine at, in case you'd like to grab a bite. Feel free to hop into the Caribe shop that sells summer and the Caribbean styles and be dressed the part. You can also find fun souvenirs to take back home to your family and friends.
Les mer
Vis mindre
Kolleksjoner
Denne opplevelsen er en del av disse kolleksjonene
Du liker kanskje også
Klikk for å se andre opplevelser
Se alle
Sagrada Familia
204 Aktiviteter
Güell park
73 Aktiviteter
Sport
9 Aktiviteter
Game of Thrones
9 Aktiviteter
Car Rental & GoCar
30 Aktiviteter
Private Transfer
14 Aktiviteter
Cooking Class
28 Aktiviteter
City Tour
121 Aktiviteter
Colonia Güell & Gaudi crypt
45 Aktiviteter
Excursion from Barcelona
294 Aktiviteter
Se alle 49 Kolleksjoner