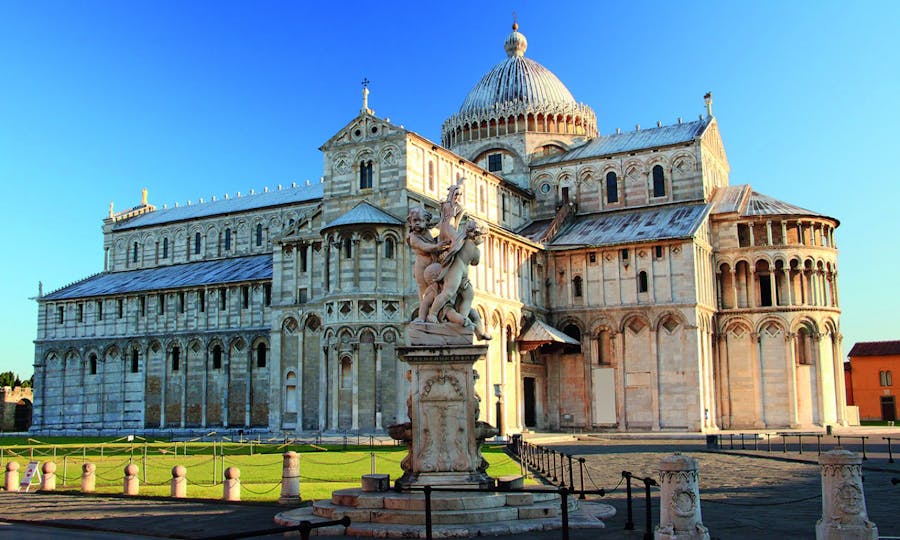 Best of Pisa half-day tour with entrance to the Cathedral from Florence
Variable
Billett
Halv dag
E-billett
Om denne aktiviteten
Pisa is one of the most visited cities in Tuscany. It is famous for its Leaning Tower and the beautiful Piazza dei Miracoli, which are among the most beautiful monumental complexes in the world. The town's most prosperous period was undoubtedly the 12th century.
This is witnessed by the urban shape of the old town center with many buildings, squares, and alleyways that run along the river Arno, they were major communication routes for centuries. It has always been an estuary town and was already an important naval base in Roman times intensifying trade in the Mediterranean. Pisa is also famous for one of the most prestigious higher learning institutions of Europe: the "Scuola Normale Superiore".
An authorized city guide will accompany you on the visit to the exterior of the Leaning Tower (entrance available on request at 25€ per person) and Monumental Cemetery. The Cathedral will be visited inside. Free time available at the end of the tour.
Les mer
Vis mindre
Kolleksjoner
Denne opplevelsen er en del av disse kolleksjonene
Du liker kanskje også
Klikk for å se andre opplevelser
Se alle
Walking Tour
251 Aktiviteter
Tuscan countryside
191 Aktiviteter
Uffizi Gallery
234 Aktiviteter
Accademia Gallery
222 Aktiviteter
Cinque Terre
62 Aktiviteter
Chianti vineyards
230 Aktiviteter
Gourmet
161 Aktiviteter
Sport & wellness
24 Aktiviteter
Cooking class
133 Aktiviteter
Duomo
78 Aktiviteter
Se alle 46 Kolleksjoner