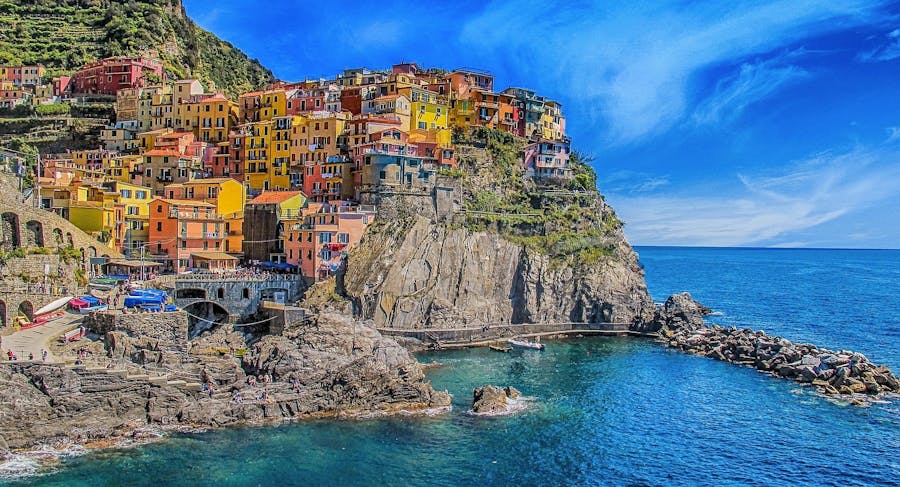 Cinque Terre hiking tour from Florence
Om denne aktiviteten
Discover the UNESCO-listed Cinque Terre, five idyllic fishing villages, with a guided hiking tour along the cliffs of the national park, departing from Florence by bus.


You'll depart from Florence at 8.00am by coach: during the short 2-hour trip, your guide will share expert insights about the area with you. You'll then arrive high above the Cinque Terre village of Manarola, where you'll enter the National Park and start your hike to Corniglia, enjoying stunning panoramic views and a spectacular natural environment.

At the cliff-top village of Corniglia, you'll have some free time to relax and to take in the perfect view of the sea and surrounding hillsides. You'll continue your tour towards the village of Vernazza, one of the most characteristic of the Cinque Terre: here, you'll enjoy some free time for relaxing at a nice bar or even having a cooling swim in the sea. You'll then head to Monterosso by train, where you'll explore this village renowned for its beautiful beach and artisan shops: you'll have free time for tasting the local wine or exploring the beach.

You'll end your trip with a boat ride (or train ride, depending on weather) to Riomaggiore: from here, you'll enjoy the final hike to Manarola, along "The Way of Love", a pedestrian street overlooking the sea. You'll finally come back to Florence by coach around 8.30pm.



Please note: these ancient trails are rough but accessible. Be prepared for the hiking – although the path is open to everyone, remember that the ground can be slippery, uneven and steep. The charm of the area is its authenticity, do not expect hand rails or safety rails when steps are steep or when the path is close to the cliff edge. Because of the nature of the hike, we are unable to accept small children or anyone with walking difficulties.
Les mer
Vis mindre
Kolleksjoner
Denne opplevelsen er en del av disse kolleksjonene
Du liker kanskje også
Klikk for å se andre opplevelser
Se alle
Walking Tour
251 Aktiviteter
Tuscan countryside
191 Aktiviteter
Uffizi Gallery
234 Aktiviteter
Accademia Gallery
222 Aktiviteter
Chianti vineyards
230 Aktiviteter
Gourmet
161 Aktiviteter
Cooking class
133 Aktiviteter
Duomo
78 Aktiviteter
Siena & San Gimigiano
89 Aktiviteter
Pisa & Lucca
124 Aktiviteter
Se alle 46 Kolleksjoner