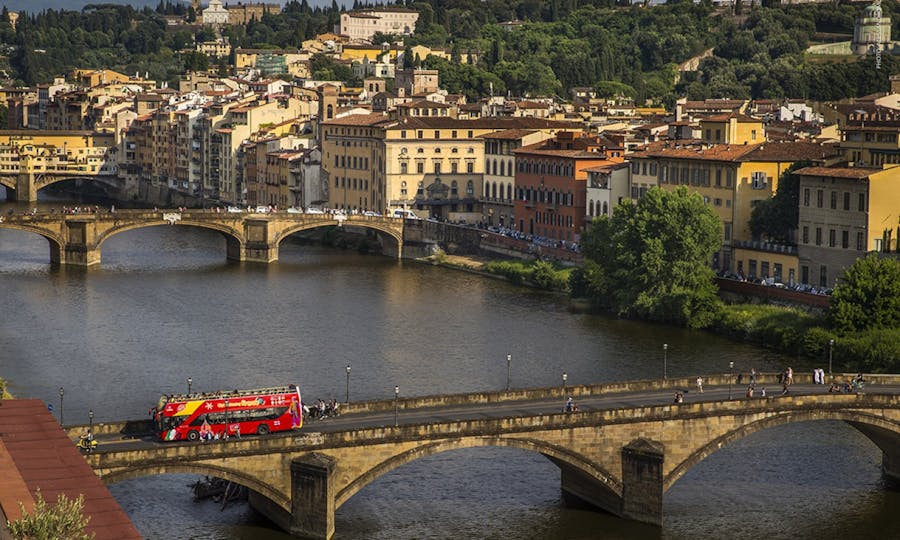 Florence Hop-on Hop-off Bus Tour - 24, 48, 72 Hours Tickets
Om denne aktiviteten
Jump onboard your CitySightseeing red open-top double-decker bus and get to know the gorgeous Italian City of Florence!
Hop on wherever you like and hop off at your leisure at any point along the route. CitySightseeing offers 2 different bus lines and will allow you to reach many of the highlights and places of interest of the Renaissance city. The city lies on the River Arno and is known for its history and significance in the Middle Ages and the Renaissance especially for its art and architecture. In the city's museums, churches, and palaces you will find some of the greatest artistic treasures in the world. With CitySightseeing Florence you will be able to enjoy the stunning view from Piazzale Michelangelo, cross Ponte Vecchio to wander around its boutiques, then reach the beautiful Fiesole. City Sightseeing Florence really is the best way to see the city while learning everything about the history of its elegant palaces and monuments, historical events and gastronomic traditions thanks to commentaries available in several languages.
Available for 24, 48 or 72 hours, tickets for CitySightseeing Florence will make your stay in the city more fun and much easier!
24-Hours Ticket: validity expires exactly 24 hours after you redeemed your voucher
48-Hours Ticket: validity expires exactly 48 hours after you redeemed your voucher
72-Hours Ticket: validity expires exactly 72 hours after you redeemed your voucher
Download now Sightseeing Experience APP: an easy and practical way to orient yourself, move, visit and discover the city.
Inside the APP you find a free walking tour of the center available in 5 languages and an interactive map that shows you the position of the buses in real time, the waiting time at each stop and your position so you can easily reach the nearest stop.
Les mer
Vis mindre
Kolleksjoner
Denne opplevelsen er en del av disse kolleksjonene
Du liker kanskje også
Klikk for å se andre opplevelser
Se alle
Walking Tour
251 Aktiviteter
Tuscan countryside
191 Aktiviteter
Uffizi Gallery
234 Aktiviteter
Accademia Gallery
222 Aktiviteter
Cinque Terre
62 Aktiviteter
Chianti vineyards
230 Aktiviteter
Gourmet
161 Aktiviteter
Sport & wellness
24 Aktiviteter
Cooking class
133 Aktiviteter
Duomo
78 Aktiviteter
Se alle 46 Kolleksjoner