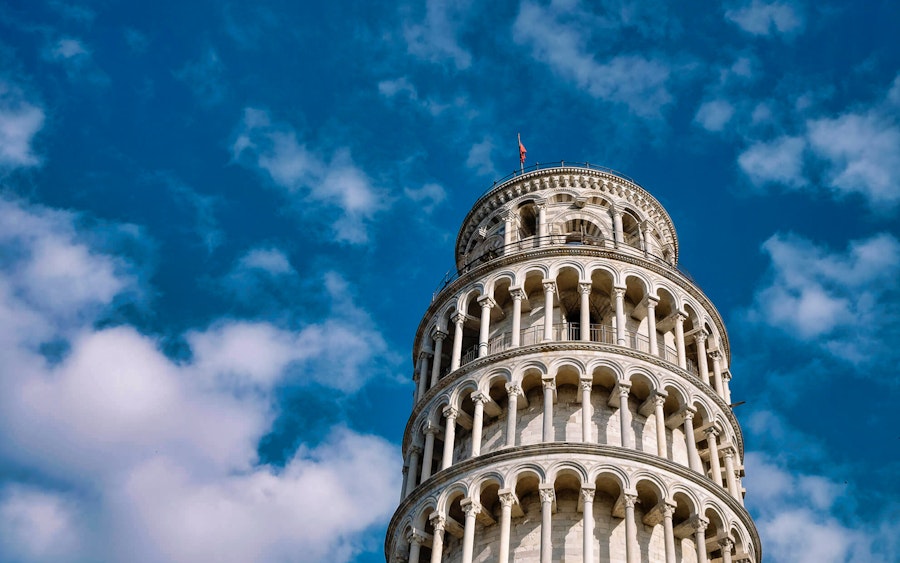 Pisa Guided Visit including Leaning Tower
Variable
Populær
Hopp over køen
med guide
Om denne aktiviteten
Why You Shouldn't Miss This
The Leaning Tower of Pisa, constructed in the 12th and 13th centuries is one of the most notable landmarks in Europe and one of the seven wonders of the world. It stands at a height of 56 meters, and leans at almost 4 degrees, which led to its now famous name. The tower has 296 steps leading to the top, which you will have the opportunity to climb in the course of this tour.
The Piazza dei Miracoli is home to some of the most important works of medieval European art. The Pisa Baptistery, the Leaning Tower of Pisa, Pisa Cathedral and the Camposanto Monumentale, are the four great attractions in the Square of Miracles that you will also have to opportunity to see on this tour.
Your Experience
Your tour will begin from the Caf Tour and Travel office in Florence. A splendid drive through the beautiful Tuscan countryside will take you to the historic university city of Pisa. You will start off by walking through the Piazza dei Miracoli and see its numerous attractions. Your guide will take you through the history of the area and go into detail about the incredible monuments in the square. The massive Pisa Cathedral built in the Romanesque architectural style can be seen here with its white marble and stone structure that presents a stunning sight in the afternoon light. The front facade is incredibly detailed with multicoloured mosaic, marble and bronze objects decorating the exterior. The huge bronze doors are embellished with sculptures and give the Cathedral a majestic appearance.
Next up is the circular Baptistery. At nearly the same height as the Leaning Tower of Pisa, the entrance is flanked by two classical columns that have numerous sculptures. The confluence of Gothic and Romanesque architecture makes the monument one of the most unique structures in Italy.
The world-famous Leaning Tower of Pisa is next. You can go past the long queues with your exclusive skip-the-line entry and have the option of climbing all the way to the top of the spiral staircase. Your guide will explain the reason for its characteristic 'lean' and the measures taken to ensure that it does not topple over. The entire experience is guaranteed to be etched in your memory for years to come.
Les mer
Vis mindre
Kolleksjoner
Denne opplevelsen er en del av disse kolleksjonene
Du liker kanskje også
Klikk for å se andre opplevelser
Se alle
Walking Tour
251 Aktiviteter
Tuscan countryside
191 Aktiviteter
Uffizi Gallery
234 Aktiviteter
Accademia Gallery
222 Aktiviteter
Cinque Terre
62 Aktiviteter
Chianti vineyards
230 Aktiviteter
Gourmet
161 Aktiviteter
Sport & wellness
24 Aktiviteter
Cooking class
133 Aktiviteter
Duomo
78 Aktiviteter
Se alle 46 Kolleksjoner