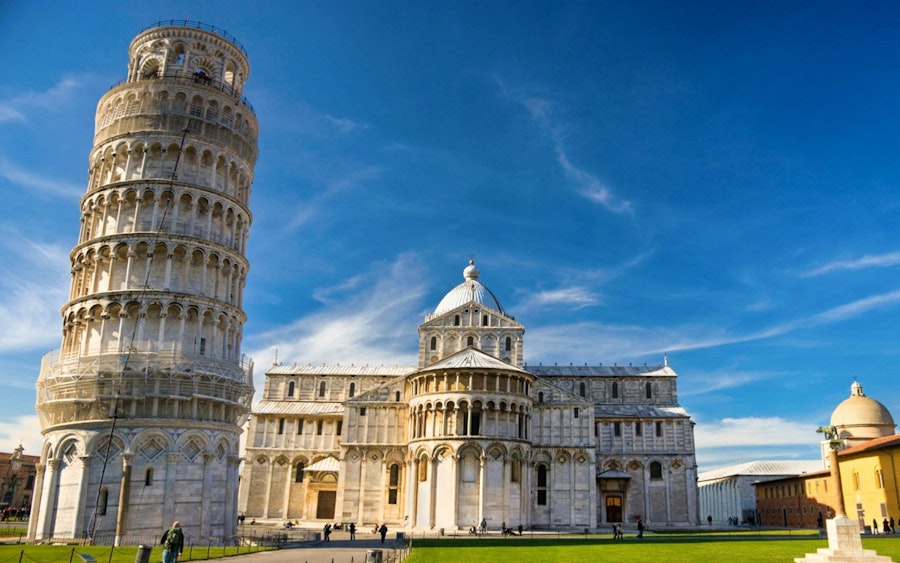 From Florence: Half day Pisa Excursion
Variable
Populær
med guide
Halv dag
Om denne aktiviteten
Why You Shouldn't Miss This
The most famous city in the Tuscany region of Italy, Pisa lies on both sides of the Arno, close to where it meets the Ligurian Sea. Although it is best known for the Leaning Tower, the city is peppered with medieval buildings and churches that are filled with rich history and are incredible architectural achievements in themselves.
The Leaning Tower of Pisa is a bell tower that is freestanding in the cathedral of Pisa. Called the 'Campanile' in Italian, it is famous for the unintentional tilt that is characteristic of the structure. The tilt started in the 12th century, during its construction, due to insufficient strength in the ground below the foundation. The ground was far too soft on one side to support the tower's entire weight. The tilt of the tower increased gradually with time until some restoration was performed. The Leaning Tower of Pisa currently has a tilt of 3.99 degrees, but it was once tilting at a dangerous 5.5 degrees before its restoration.
Your Experience
You will begin with an amazing drive through the scenic countryside of Tuscany until you reach Pisa, a city renowned for its splendid architecture. When you reach the city, you will meet a knowledgeable local guide who will take you on an outdoor walking tour of Piazza dei Miracoli and the other monuments in the area. This square is an architectural delight that houses the Cathedral, whose design clearly showcases the unique Pisan-Romanesque style of architecture. The tour will then take you to the Leaning Tower and the circular Baptistery. The excursion will focus primarily on the Leaning Tower, its fascinating history and the story behind its unique name.
Les mer
Vis mindre
Kolleksjoner
Denne opplevelsen er en del av disse kolleksjonene
Du liker kanskje også
Klikk for å se andre opplevelser
Se alle
Walking Tour
251 Aktiviteter
Uffizi Gallery
234 Aktiviteter
Accademia Gallery
222 Aktiviteter
Cinque Terre
62 Aktiviteter
Chianti vineyards
230 Aktiviteter
Gourmet
161 Aktiviteter
Sport & wellness
24 Aktiviteter
Cooking class
133 Aktiviteter
Duomo
78 Aktiviteter
Siena & San Gimigiano
89 Aktiviteter
Se alle 46 Kolleksjoner