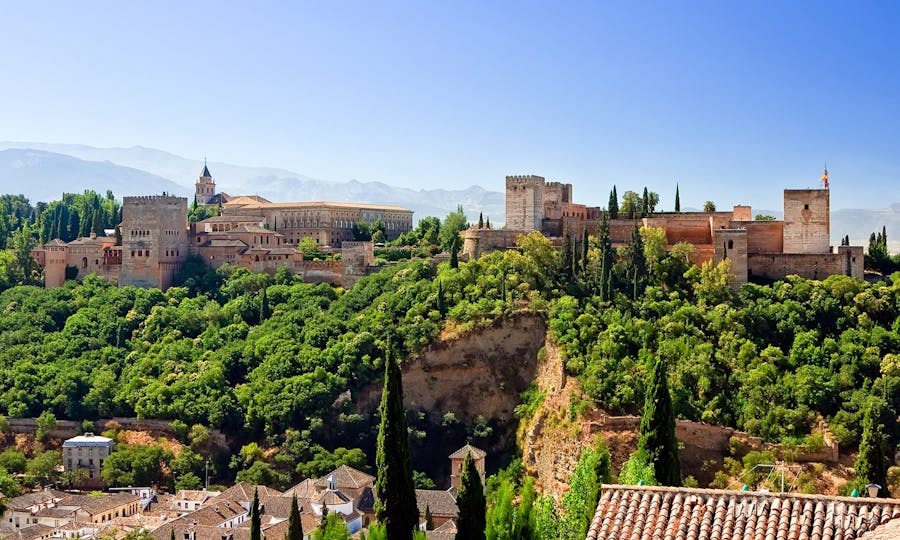 Albaizyn and Sacromonte walking tour and Granada hop-on hop-off tourist train
Variable
Til fots
Med tog
Om denne aktiviteten
Due to the long rule of the Moors Granada has maintained a strong tie with Middle Eastern culture. Discover the fusion of two worlds and cultures with this interesting guided tour!
With an official tour bus you will go to the heart of the Moor district of Albayzín to start a guided walking tour. A walk through the Albayzín means to travel through the roots of the Moors. The Albayzín is made up of narrow streets, which smell of jasmine, and can feel as though you are in a labyrinth. The Sacromonte quarter is the place where gypsies have established themselves after the reconquest of the Catholic Monarchs of Granada. You will visit one of the areas' typical and famous house-caves.
You will also have all the day to discover Granada on your own path with a Hop-on Hop-off Tourist Train, specially designed to go through the narrow streets of Granada. It features a panoramic roof, open deck in summer, with an audioguide in 12 languages and 2 special kids channels in Spanish and English. There are two available routes: the Alhambra Route runs during the day and the City Centre Route that runs in the evening and takes you to visit Granada's great nightlife!
Les mer
Vis mindre
Kolleksjoner
Denne opplevelsen er en del av disse kolleksjonene
Du liker kanskje også
Klikk for å se andre opplevelser
Se alle
Alhambra
152 Aktiviteter
Flamenco
23 Aktiviteter
Wine & Tapas
12 Aktiviteter
Night Tour
8 Aktiviteter
The Alpujarras
8 Aktiviteter
E-bike Tour
9 Aktiviteter
Hammam
5 Aktiviteter
Cathedral & Royal Chapel
9 Aktiviteter
Sierra Nevada
11 Aktiviteter
Cordoba
9 Aktiviteter
Se alle 17 Kolleksjoner