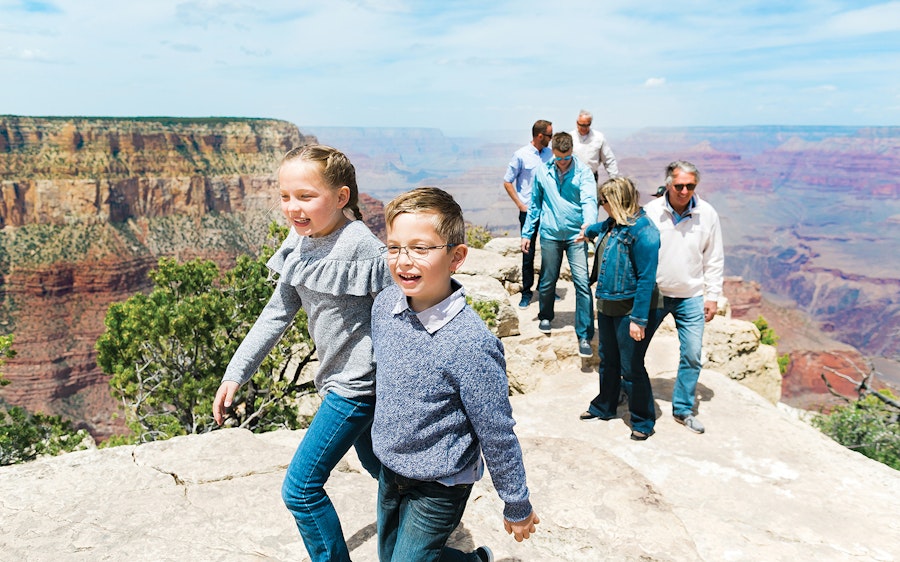 Grand Canyon Airplane Tour with Optional Landing and Skywalk
Variable
Populær
E-billett
Om denne aktiviteten
Why You Shouldn't Miss This
The Grand Canyon is one of the world's most impressive geological wonders. A two billion-year-old gorge eroded slowly by wind and water, the canyon's cascading colors and fascinating rock layers evoke an emotion that everyone should feel at least once in their lifetime. Take in the grandeur from the best vantage point possible - the sky! Afterward, explore the West Rim by foot and feel what it's like to be immersed in such stunning natural beauty.
About Your Grand Canyon West Rim Airplane Tour Experience:
Set off from your hotel in Las Vegas and board a luxury sightseeing airplane. Fly over Lake Mead, the Hoover Dam, Mojave Desert and Grand Canyon West. From a bird's eye view, gaze down at the rushing Colorado River, flowing through the canyon walls. Be sure to snap of picture of Eagle Point - a massive stone wall featuring the unmistakeable shape of an eagle. Revered by the Hualapai people, the ancient rock formation is one of the West Rim's highlights.
With Optional Landing at the Grand Canyon:
Disembark the airplane and enjoy a self-guided tour of the West Rim. Discover Guano Point, Eagle Point and more with the complimentary hop-on, hop-off shuttle. At your convenience, break for lunch at whichever viewpoint you'd like to eat at.
With Landing + Skywalk:
Situated right across from Eagle Point, visit the West Rim's exhilarating, man-made Skywalk. A tremendous, U-shaped glass bridge that juts out 70 feet from the canyon's rim, Skywalk presents guests with the chance to stand 4,000 feet in the air. An impressive architectural feat, feel the adrenaline as you gaze down at the canyon floor.
Les mer
Vis mindre
Kolleksjoner
Denne opplevelsen er en del av disse kolleksjonene
Du liker kanskje også
Klikk for å se andre opplevelser
Se alle
Grand Canyon
113 Aktiviteter
Red Rock Canyon
30 Aktiviteter
National Parks
140 Aktiviteter
Hoover Dam
58 Aktiviteter
Day trips & Excursions
93 Aktiviteter
Sightseeing
8 Aktiviteter
By night
31 Aktiviteter
Boats & Cruises
28 Aktiviteter
Car driving
19 Aktiviteter
Shows & Concerts
85 Aktiviteter
Se alle 33 Kolleksjoner