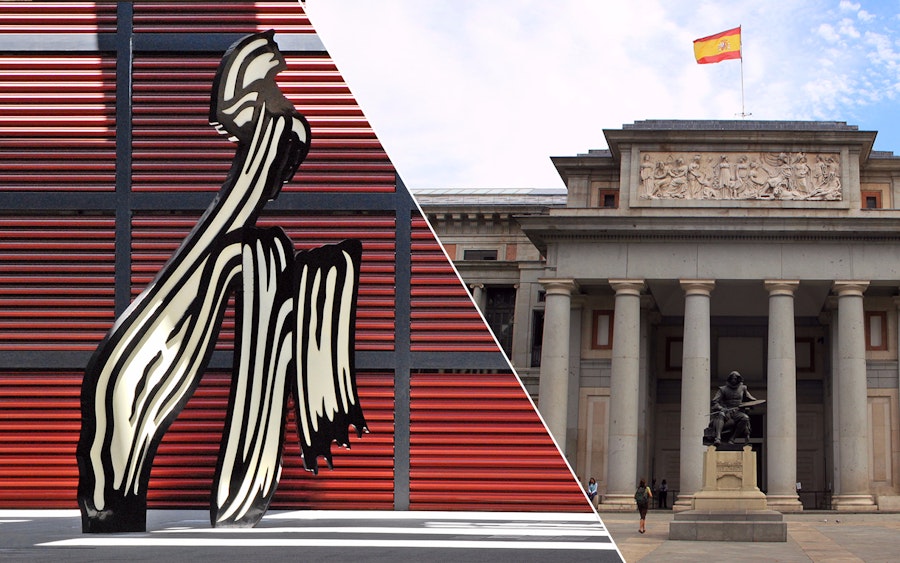 Paseo del Arte - 3 Museum Pass for the Prado, Thyssen-Bornemisza and Reina Sofia
Om denne aktiviteten
Why You Shouldn't Miss This
The Paseo Del Arte pass is a one-of-kind art-centric museum pass in Madrid that allows you to access the top three art museums of the city while also saving you money, time on queues and more. Walk through the 'Golden Triangle of Art' and see works across eight centuries as you're bound to learn about the evolution of art and its history.
Madrid is known for its prolific artworks world over and this card allows you to discover exactly what it is that makes Madrid special. With access to the permanent exhibitions as well as most the temporary exhibitions, you're guaranteed to fall in love with art. Through this discovery of artworks, you'll see some of the greatest works in existence from artists whose names are synonymous with artistic revolutions of Spain and the rest of Europe
Your Experience
The Paseo Del Arte pass allows you to access the leading museums of Madrid i.e the Thyssen-Bornemisza, Prado and Reina Sofia Centre.
Thyssen-Bornemisza Museum
The Thyssen-Bornemisza is one of the largest and most valuable privately held art collections in the entire world. This extraordinary private collection spans over multiple centuries of artists and artworks and includes pieces from the Renaissance, the Baroque and Rococo era, the age of Romanticism and the evolution into Modernist and Impressionist era. This cultural journey will take you through the works of Rembrandt, Raphael, Caravaggio, Titian and several other prolific artists.
Museo Del Prado
Rated by National Geographic is one of the top 10 museums in the world, the Prado is an old castle which displays nearly 1,500 works by world famous artists. The works here include a large number of paintings from the Spanish Golden Age and offers a penetrating look at the history of Spanish Art. The collection, based on the Spanish Royal Collection, dates back to the 12th century and includes the works of Francisco Goya who is considered the most important Spanish painter of his time. You can also expect to see the works of Diego Velazquez, Titian, Raphael and El Greco to name a few.
Museo Nacional Centro de Arte Reina Sofía
The national Spanish museum for 20th-century art holds the greatest collections of Spain's top three 20th century artists - Picasso, Dali and Miro. The hospital turned art museum houses 1,653 paintings featuring both national and international artists. The most famous 20th century artwork of Spain, 'Guernica' by Pablo Picasso resides in this museum. This museum is also known for its beautiful courtyards and vaulted hallways which are an absolute joy to wander through.
Les mer
Vis mindre
Kolleksjoner
Denne opplevelsen er en del av disse kolleksjonene
Du liker kanskje også
Klikk for å se andre opplevelser
Se alle
Toledo
138 Aktiviteter
From Madrid
70 Aktiviteter
By Bus
36 Aktiviteter
Gourmet
123 Aktiviteter
Avila
23 Aktiviteter
Segovia
64 Aktiviteter
Walking Tour
65 Aktiviteter
Stadiums
27 Aktiviteter
Spain Discovery
26 Aktiviteter
Cordoba
17 Aktiviteter
Se alle 33 Kolleksjoner