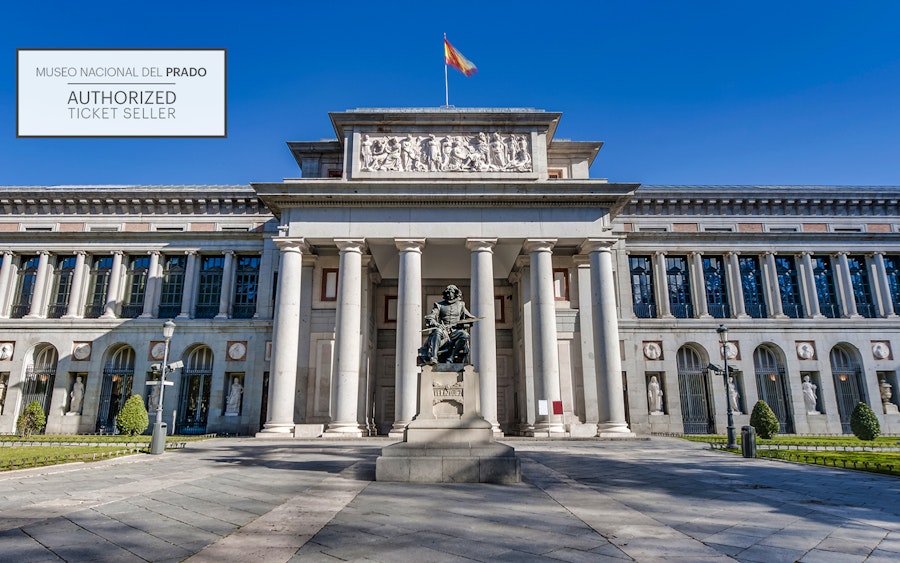 Skip the Line Tickets to Prado Museum
Variable
Populær
Billett
Hopp over køen
E-billett
Umiddelbar bekreftelse
Om denne aktiviteten
Why You Shouldn't Miss This
The Prado Museum is a landmark of huge national and global importance. Occupying a 18th-century Neo-classical building, the Prado Museum is home to over 20,000 works of art that include around 7,500 paintings, 8,000 drawings, 4,800 prints, and 1,000 sculptures and other works of art and historical documents. Some of the greats whose works adorn the Prado walls are Francisco Goya, El Greco, Diego Velazquez, Hieronymus Bosch, Peter Paul Rubens and Titian.
Your Experience
On the day you would like to visit the museum, carry a printed copy of the ticket and head to the museum. Bypass the arduous ticketing queue and, after a brief security check, you are free to roam Prado's galleries.
The exhibits on display at the Prado Museum are spread over three levels - basement, first and second. You can explore the museum's galleries for as long as you like. Some of the most important and popular artworks that you must not miss are "Las Meninas", "Crucifixion" and "The Tapestry Weavers" by Diego Velazquez; Goya's "Maja" series; "The Cardinal" by Raphael; the crown jewels; "Emperor Carlos V on Horseback" by Titian; "David Victorious over Goliath" by Caravaggio and many more.
Les mer
Vis mindre
Kolleksjoner
Denne opplevelsen er en del av disse kolleksjonene
Du liker kanskje også
Klikk for å se andre opplevelser
Se alle
Toledo
138 Aktiviteter
From Madrid
70 Aktiviteter
By Bus
36 Aktiviteter
Gourmet
123 Aktiviteter
Avila
23 Aktiviteter
Segovia
64 Aktiviteter
Walking Tour
65 Aktiviteter
Stadiums
27 Aktiviteter
Spain Discovery
26 Aktiviteter
Cordoba
17 Aktiviteter
Se alle 33 Kolleksjoner