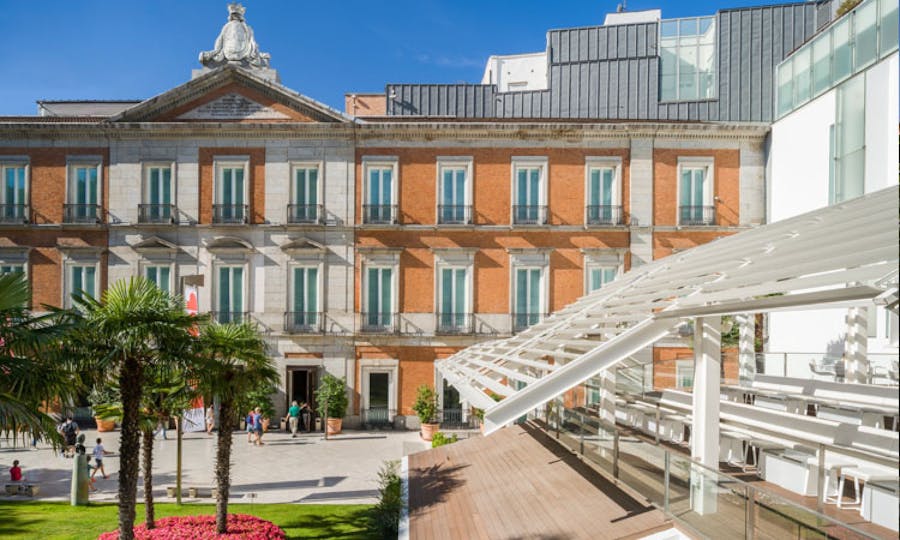 Thyssen-Bornemisza Museum skip-the-line tickets
Variable
Populær
Billett
Hopp over køen
Om denne aktiviteten
The Museo Nacional Thyssen-Bornemisza is an important cultural center in the Paseo del Prado in Madrid. The artworks that this Museum houses were once the property of Baron Hans Heinrich Thyssen-Bornemisza and were previously held in a museum in Lugano, Switzerland. After the Baron's marriage with a Spanish woman, he wanted to give his precious collection to the Spanish government, and it was decided that the collection should reside in Madrid.
The Museum offers visitors an overview of art from the 13th century to the late 20th century. In the nearly one thousand works on display, visitors can contemplate the major periods and pictorial schools of western art such as the Renaissance, Mannerism, the Baroque, Rococo, Romanticism and the art of the 19th and 20th centuries up to Pop Art. The museum also features works from some movements not represented in state-owned collections, such as Impressionism, Fauvism, German Expressionism and the experimental avant-garde movements of the early 20th century. In addition, it boasts an important collection of 19th-century American painting not found in any other European museum institutions.
NOTE: This ticket is valid for admission to the permanent collection and temporary exhibitions.
Les mer
Vis mindre
Kolleksjoner
Denne opplevelsen er en del av disse kolleksjonene
Du liker kanskje også
Klikk for å se andre opplevelser
Se alle
Toledo
138 Aktiviteter
From Madrid
70 Aktiviteter
By Bus
36 Aktiviteter
Gourmet
123 Aktiviteter
Avila
23 Aktiviteter
Segovia
64 Aktiviteter
Walking Tour
65 Aktiviteter
Stadiums
27 Aktiviteter
Spain Discovery
26 Aktiviteter
Cordoba
17 Aktiviteter
Se alle 33 Kolleksjoner