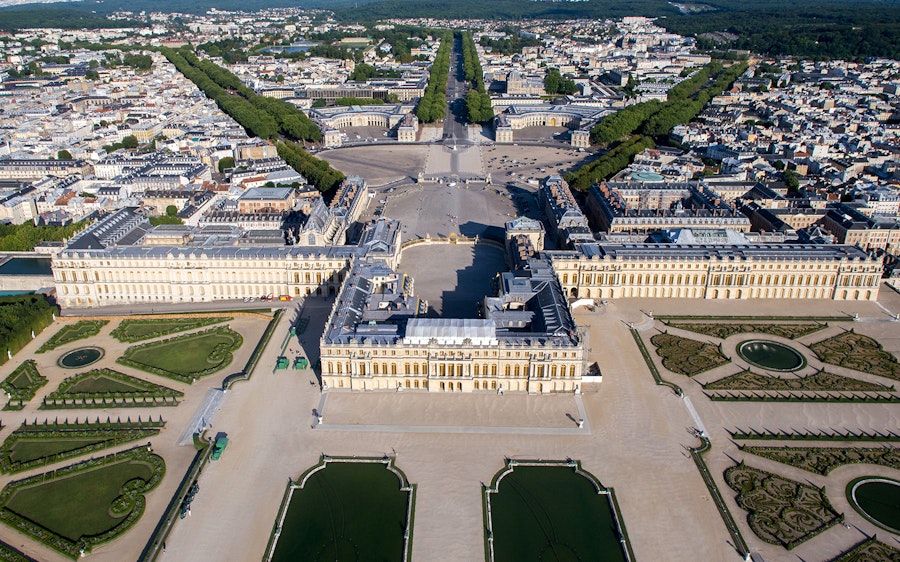 Palace of Versailles All Access Passport Entry with Audioguide
Variable
Populær
Lydguide
E-billett
Om denne aktiviteten
Your Experience Use Your Passport to Tour the Château de Versailles
Your ticket gives you access to the most famous places within the royal estate including the Royal Palace, the Park, Gardens, Marie Antoinette's Estate, and entry to any exhibitions on show at the time of your visit. If you plan to visit on a Friday, Saturday or Sunday, it's worth paying the extra €8 for an upgraded Passport ticket, which includes access to the Musical Fountain and Garden shows.
Learn About the French Monarchy with the Help of a Multilingual Audio Guide
Upon entering the Palace, collect your complimentary audio guide from one of the two pick-up counters located on the ground floor, one at the entrance to the Apartment Ladies and the other at the entrance to the Gallery of Castles. Audio guides are available in 11 languages: Spanish, Chinese, English, French, German, Italian, Japanese, Korean, Polish, Portuguese and Russian.
Begin your visit by exploring the ornate King and Queen's State Apartments. Learn about the French monarchy and peek into the private lives of the infamous King Louis XIV and Marie Antoinette. Next, make your way to the glittering Hall of Mirrors. Designed to protect the ornate walls and ceilings from smoke, the hall's 357 mirrors were strategically placed to reflect the light of candles. With just a few flames, the reflection from so many mirrors was enough to light up the whole hall!
Explore 250 Acres of Gorgeously Landscaped Lawns and Fountains
After admiring the inside of the Palace, head outdoors and take in the grandeur of the estate's impressive architecture. Stroll along the cobblestone grounds, through the beautiful French gardens, and pass by the gorgeous Versailles fountains. Next, stop by the Estate of Marie Antoinette and discover the life and antics of the Queen at the Petit Trianon. Walk around the Village of the Queen and English gardens, then see where Marie Antoinette built her own house, a Mill, a Preparation Dairy, a Cave, a Belvedere and the magnificent Temple of Love where lovers get engage. At the Carrosses Gallery, travel back in time as you explore carriages, coaches, sculptures and other artifacts left behind by the French Monarch.
If you're short on time and would prefer to skip the long lines, a Versailles skip-the-line entry ticket will allow you to save your time.
If you'd like to maximize your time at the palace of Versailles and get a more in depth Castle experience, click here.
Each year, it is estimated that approximately 5 million people visit the Palace of Versailles, and between 8 and 10 million people walk its gardens. A place of immense beauty, Versailles stands as a symbol of France's monarchy and its glorious history.
Les mer
Vis mindre
Kolleksjoner
Denne opplevelsen er en del av disse kolleksjonene
Du liker kanskje også
Klikk for å se andre opplevelser
Se alle
Eiffel tower
167 Aktiviteter
Louvre museum
196 Aktiviteter
City tour
83 Aktiviteter
Moulin Rouge
42 Aktiviteter
Hop-on Hop-off & Bus
55 Aktiviteter
Seine River cruise
227 Aktiviteter
With a local
79 Aktiviteter
Other museums
107 Aktiviteter
Walking tour
179 Aktiviteter
Monet & Giverny
103 Aktiviteter
Se alle 52 Kolleksjoner