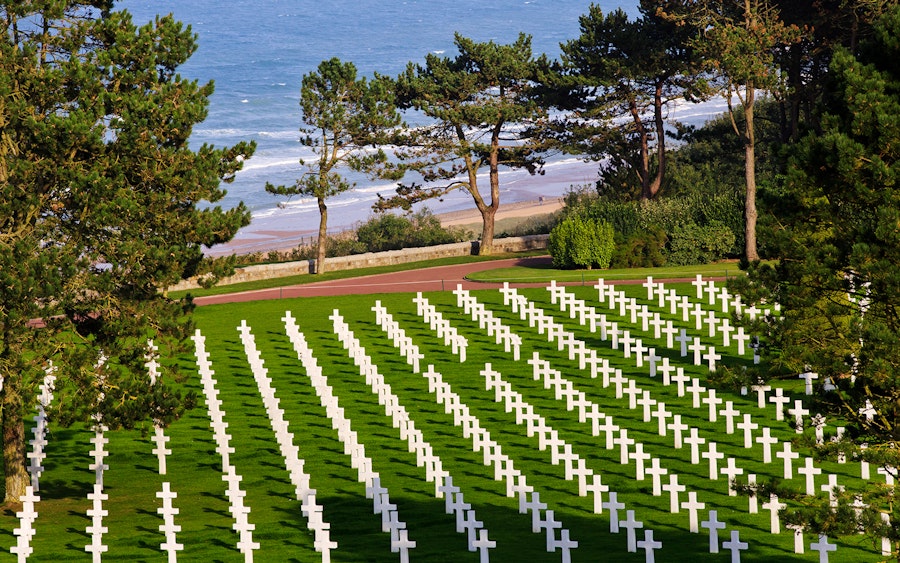 WWII: Normandy U.S. D-Day Beaches Full Day Trip with Lunch from Paris
Variable
Populær
Lunsj
Full dag
Umiddelbar bekreftelse
Om denne aktiviteten
Why You Shouldn't Miss This
The Allies stormed Normandy in the early hours of June 6th, 1944. The Germans lost control of Utah Beach and Omaha Beach after some stern resistance. Within a week of D-Day, allied forces had filtered through the German defenses and occupied Normandy, ensuring an allied victory.
There are few places in the world that embody the spirit of righteousness and sacrifice as strongly as the sites on this tour. It will leave you with a newfound admiration for the soldiers who fought in the name of freedom. This is an opportunity you cannot miss.
Your Experience
The tour will begin in Central Paris. Your guide will accompany you on board the air-conditioned bus that will take you to the sites. The guide will tell you intriguing stories of World War II along the way. Feel free to quench your curiosity by asking the guide questions. Utah Beach will be your first stop. Here, you will get to see an original B-26 plane, soldiers' letters and personal possessions that speak volumes about the traumatic experiences they went through.
Bask in the apple orchards of Normandy. You'll even get a chance to visit a 17th-century barn and try out some apple brandy, locally known as Calvados. This will be followed by a 2-course lunch in a local restaurant. Ponte du Hoc is undoubtedly the most beautiful locations on the tour. The colossal cliffs that overlook the English Channel are an incredible sight. Finally, you will visit the American Cemetery. Ten-thousand white crosses dot the landscape, emphasizing the sheer number of lives lost in the war. You'll have time to look around the cemetery, visit the wall of the missing and awe-inspiring memorial, and look down upon Omaha, the beach where the Allies faced the stiffest resistance and suffered the most casualties
Les mer
Vis mindre
Kolleksjoner
Denne opplevelsen er en del av disse kolleksjonene
Du liker kanskje også
Klikk for å se andre opplevelser
Se alle
Eiffel tower
167 Aktiviteter
Louvre museum
196 Aktiviteter
City tour
83 Aktiviteter
Moulin Rouge
42 Aktiviteter
Hop-on Hop-off & Bus
55 Aktiviteter
Seine River cruise
227 Aktiviteter
Versailles
207 Aktiviteter
With a local
79 Aktiviteter
Other museums
107 Aktiviteter
Walking tour
179 Aktiviteter
Se alle 52 Kolleksjoner